Whitewater rafting
Scales of difficulty for rapids
Class I: Easy:
Fast moving water with riffles and small waves. Can be paddled with little training.
Class II: Novice:
Straightforward rapids, but rocks and medium-sized waves are avoided by trained paddlers
Class III: Intermediate:
Rapids with moderate, irregular waves requiring increased skills.
Class IV: Advanced:
Intense, powerful but predictable rapids requiring precise handling in turbulent water.
Class V: Expert:
Extremely long, obstructed, or very violent rapids with dangerous drops requiring paddling expertise and experience.

Class VI: Extreme:
Extremes of difficulty, unpredictability and danger. The consequences of errors are severe and rescue may be impossible.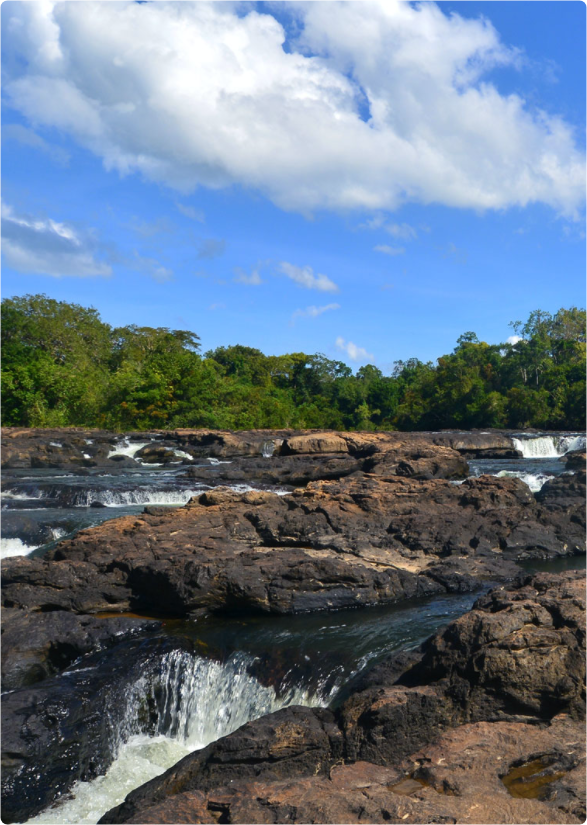 Hin Phoeng Rapids (Class III-V)
Visitors can go rafting at Hin Phoeng Rapids which are located at Khao Yai National Park Protection Unit 9 (Sai Yai), Na Di, Prachinburi. These are the highest rapids of the Sai Yai River fed by the mountains of Khao Yai flowing from Wang Haew Waterfall to Hin Phoeng for a distance of 80 km. Hin Phoeng is a sandstone formation with a turbulent water flow in the rainy season forming islands and rocky outcrops in the river.
The safest portion is a 2.5km stretch with 6 rapids called Kaeng Hin Phoeng, Kaeng Phak Nam Lom, Kaeng Wang Bon, Kaeng Luk Seua, Kaeng Wang Sai and Kaeng Ngu Hao. The outstanding location in these rapids is Hin Phoeng, which is used as a starting point for rafting. Hin Phoeng is a broken stone platform, sliding down to make a turbulent current and whirlpools which require good paddling skills to negotiate 
| | |
| --- | --- |
| | |
| During the rainy season, Hin Phoeng is very beautiful and highly suitable for rafting On the white water past the various prominent white stones on the route | During the hot and cool season when water levels are reduced, it is more suitable for geological study. |
A trip from Hin Phoeng to Khao Yai National Park Protection Unit 9 passes through Kaeng Wang Bon, Kaeng Luk Seua, Kaeng Wang Sai and finally Kaeng Ngu Hao, a distance of 2km that will take approximately 2 hours. As rapids of Class III-V, a raft with the capacity of 8-10 people is required.
Geology of Hin Phoeng
As well as being a tourist attraction for water adventures, when water levels are reduced, Hin Phoeng has a fascinating geology to discover. It is testament to the power of water flow which can shape and sculpt beautiful patterns, stone humpback bridges and potholes formed from choppy water currents transporting pebbles and sand to grind holes.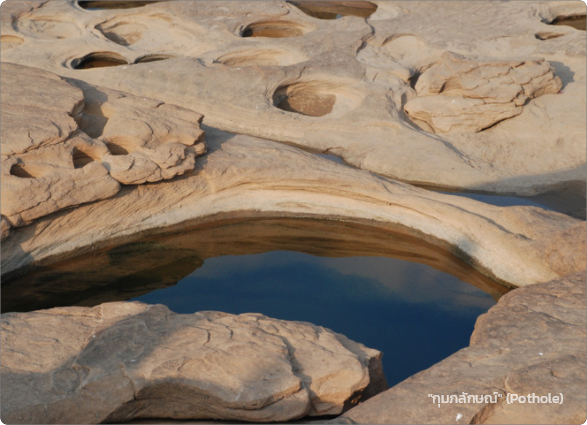 Best times for Whitewater rafting
Rainy season from July to October,
as the water current is strong and turbulent, and suitable for rafters wanting to be challenged by the water.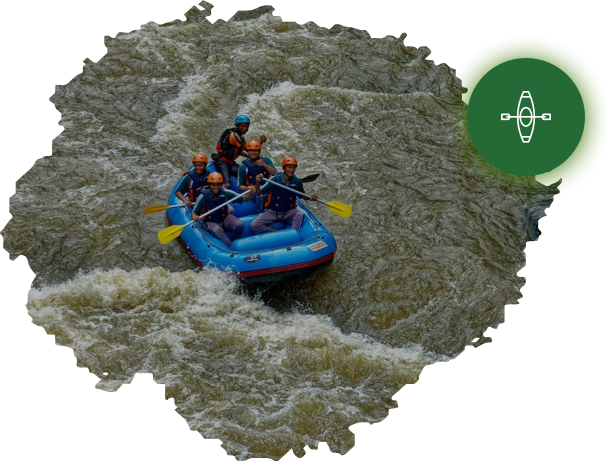 Using the service
| | |
| --- | --- |
|           1 | Contact rafting service provider |
|          2 | Walk from Khao Yai National Park Protection Unit 9 (Sai Yai) about 2.5km to the start of the Rapids, which takes about 45 minutes. |
|          3 | Raft down the Sai Yai river to Khao Yai National Park Protection Unit 9 on a raft with capacity for 8-10 people, which will take about 30 minutes. |
Getting there
There are two main routes:
 
Route 1
Take Highway 304 from Kabinburi to Nakhon Ratchasima. From the entrance at the 11 km milepost is another 25 km.
Route 2
Take Highway 33 from Bangkok (Suwannasorn), turn left onto Highway 2041 and travel about 25 km. Park at Khao Yai National Park Protection Unit 9 (Sai Yai), then walk another 2.5 km to Hin Phoeng Rapids, which takes about 45 minutes.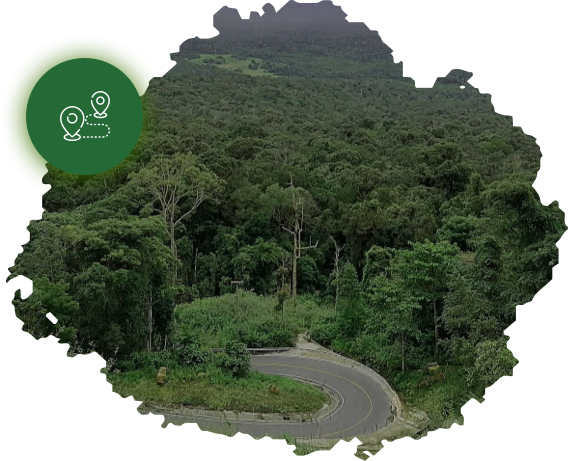 Code of conduct for rafting
Wear a crash helmet and a life vest on board the boat or raft
Check all your equipment before getting on the raft.
Wear comfortable clothing and shoes which are not too thick or close fitting, in quick drying fabric. Sandals should be secured with a strap, and be prepared to get wet.
Bring your jungle survival gear such as rope and torch to deal with any unexpected situations. Keep them dry in a plastic bag.
Practise sitting and maintaining your balance on the raft, holding the paddle, and punting and paddling the raft.
Survey the stretch of the stream and the water current to assess the difficulty of rafting before you try negotiating the rapids.
Do not extend any limb outside the raft when going through the rapids, as this may cause an accident.
If you fall off the raft, try and float with your face up rather than down. Put your feet in front and allow the water to sweep you over the Rapids before climbing back on to the raft or swimming to the river bank.
Most importantly, strictly follow all the regulations and advice of the officials.